Astonishing Reciepe for Beginners
Wednesday, May 27, 2015
Oven-Fried Chicken Chimichangas

Prep 20 mins
Cook 25 mins
A fast and healthier way to serve Chimichangas than the traditional deep fried. These are very good, and you may dress them up to you own preference. I like to serve with green chile sauce sometimes instead of the picante sauce.
Directions
Mix chicken, picante sauce or salsa, cumin, oregano, cheese and onions.
Place about 1/4 cup of the chicken mixture in the center of each tortilla.
Fold opposite sides over filling.
Roll up from bottom and place seam-side down on a baking sheet.
Brush with melted margarine.
Bake at 400°F for 25 minutes or until golden.
Garnish with additional cheese and green onion and serve salsa on the side.
Beer Bread

Per Google.com, the #1 recipe for Beer Bread in the world! There are a few recipes for beer bread out there, but none as simple (and tasty!) as this one. You can even mix it in the baking pan for easy cleanup. This is sensational when served with soups or just as a snack, but don't expect it to be around very long when your family gets a taste of it! Be sure to use a sheet pan on the shelf below the pan to catch any excess butter that may drip during cooking.
Directions
Preheat oven to 375 degrees.
Mix dry ingredients and beer.
Pour into a greased loaf pan.
Pour melted butter over mixture.
Bake 1 hour, remove from pan and cool for at least 15 minutes.
UPDATED NOTES: This recipe makes a very hearty bread with a crunchy, buttery crust. If you prefer a softer crust (like a traditional bread) mix the butter into the batter instead of pouring it over the top.
Sifting flour for bread recipes is a must-do. Most people just scoop the 1 cup measure in the flour canister and level it off. That compacts the flour and will turn your bread into a "hard biscuit" as some have described. That's because they aren't sifting their flour! If you do not have a sifter, use a spoon to spoon the flour into the 1 cup measure. Try it once the "correct" way and you will see an amazing difference in the end product.
I have had many email from you kind folks about using non-alcoholic beverages instead of beer. That is fine to do but I highly recommend adding a packet of Dry Active Yeast or 2 teaspoons of Bread (Machine) Yeast so that you get a proper rise.
The final result should be a thick, hearty and very tasteful bread, NOT A BRICK! ;).
Thank you all for the incredibly nice comments and those of you who left a bad review - learn to sift sift SIFT! You will be amazed at the results you get.
Fannie Farmer's Classic Baked Macaroni & Cheese

Prep 20 mins
Cook 20 mins
To me Fannie Farmer's recipe is the only "real" Macaroni & Cheese. It's from my 1946 edition of "Fannie Farmer's Boston Cooking School Cookbook". With time on it's side - this recipe is hands down the best for traditional, homemade baked macaroni & cheese - comfort food. Please Note: If you use CHEAP CHEESE you will end up with a BLAND and FLAVORLESS DISH!
Directions
Preheat oven to 400°F.
Cook and drain macaroni according to package directions; set aside.
In a large saucepan melt butter.
Add flour mixed with salt and pepper, using a whisk to stir until well blended.
Pour milk and cream in gradually; stirring constantly.
Bring to boiling point and boil 2 minutes (stirring constantly).
Reduce heat and cook (stirring constantly) 10 minutes.
Add shredded cheddar little by little and simmer an additional 5 minutes, or until cheese melts.
Turn off flame.
Add macaroni to the saucepan and toss to coat with the cheese sauce.
Transfer macaroni to a buttered baking dish.
Sprinkle with breadcrumbs.
Bake 20 minutes until the top is golden brown.
(You can also freeze this recipe in zip-lock bags for later use - once you have mixed the macaroni along with the cheese sauce allow to cool to room temperature before adding to your freezer - I generally pull it out the night before and allow macaroni and cheese to reach room temperature; I then add the macaroni and cheese to a buttered baking dish, sprinkle with bread crumbs and then bake for 20 to 30 minutes, until golden brown on top and bubbling.
Crock-Pot Chicken With Black Beans & Cream Cheese

Total Time
4hrs 3mins
I love this Crock-Pot chicken recipe for two reasons: one, my family loves it and two, it is so easy to make! I got this recipe from my sister. She has two children of her own, and they love it too! It's also the best leftovers in the world -- if there are any!
Directions
Take 4-5 frozen, yes, frozen, boneless chicken breasts put into crock pot.
Add 1 can of black beans, drained, 1 jar of salsa, 1 can of corn drained.
Keep in crock pot on high for about 4-5 hours or until chicken is cooked.
Add 1 package of cream cheese (just throw it on top!) and let sit for about 1/2 hour.
All done and enjoy!
"Whatever Floats Your Boat" Brownies!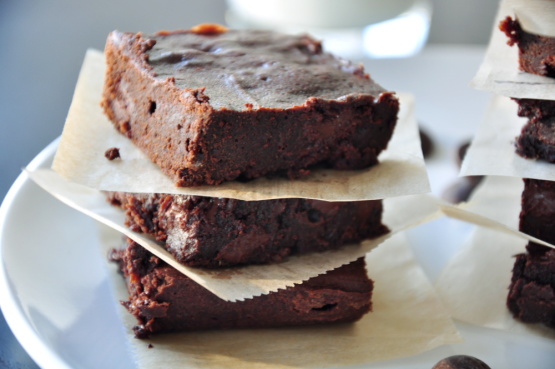 Prep 10 mins
Cook 25 mins
These are absolutely the chewiest, moistest, fudgiest brownies ever! I have tried adding so many different things to the batter, and they ALWAYS comes out great. They are also great without ANY add-ins! BUT by varying the add-ins, you can make different brownies every week (or day!!) SUPER EASY PREP! So, add "whatever floats your boat" and you will not believe how yummy they come out :) Oh, and the recipe doubles just fine--use a 9 x 13 inch pan instead and add a few more minutes of baking!
Serving 4 Units US
Directions
Preheat oven to 350°F.
Grease an 8 inch square pan or line with foil.
In a medium bowl combine melted butter and cocoa and stir until cocoa is dissolved.
Add sugar and mix well.
Add eggs one at a time and stir until well combined.
Stir in vanilla, flour and salt until you no longer see any flour (do not overmix).
Fold in "WHATEVER FLOATS YOUR BOAT"!
Spread in pan and bake for approximately 25 minutes.
DO NOT OVER-BAKE -- your brownies will come out dry. Adjust time/temp accordingly for your oven. If you do the knife/toothpick test, it should come out with moist crumbs, not clean.
Cool completely before cutting into squares.
For vegetarian omit the marshmallows.
For double recipe, bake in 9x12 pan and add 5 minutes to baking time.
Japanese Mum's Chicken

We have a Japanese girl, Tomoko, living with us, and tonight she and I cooked a Japanese dinner for us and her friends. She phoned her mum,Toshiko, in Japan for this, as it's her favourite recipe, and I wanted to share it here. It's simple and so good, and Tomoko, who is only 16, did such a good job of cooking this, then translating the recipe to English for me. *The liquid will thicken to a glaze if you are patient. It just takes a bit of time. If you feel your chicken is cooked (and going to overcook) remove it before going on to reduce the liquid. Same thing, if you must use breast meat, remove it (so it doesn't dry out) and continue reducing the liquid . If you do it this way rather than thickening with cornstarch you will get a richer glaze and not need to add stock or broth instead of the water. It just takes patience. AND NOTE: A glaze is sticky and coats the meat, this is NOT a sauce.
Directions
Place all the ingredients in a saucepan over a high heat.
Bring to the boil, then reduce to a simmer for about 20 minutes.
Remove any scum that rises to the surface.
Increase the heat, turning the drumsticks frequently in the liquid, and cook until the liquid has reduced to a sticky glaze.
Arrange the chicken on a serving platter, remove the garlic clove and chili from the liquid, and spoon the glaze over.
NOTE It's a glaze rather than a sauce, so there's not a whole lot of it.